If 2020 was a challenging year, 2021 appears to be a "booster" year for the drinks industry as many players showed strong positive results, an increase confidence in the future and a voracious appetite to launch new products. Read here how at Brand Reveal we detected this positive sentiment already in Summer 2021 and what this means to your beverage brands.
One of the best way to detect changes is to ask the same question over time. So in Summer 2021 we asked the same questions to a sample of nearly 80 drinks senior professionals than in summer 2020 when the C19 was as its highest. The analysis covers Sentiment, Product, Distribution, Communication, Pricing and Resource Management (*). The results show 4 clear trends :
1) Reinforced clarity on future actions
Knowing what to do, or "Certainty Level" is measured by the number of "Don't Know's" for a question: the lower the % of "Don't know" in responses the higher the number or respondents with an opinion, i.e. "certainty".
When the Covid 19 crisis started one and a half year ago, 24% of responses were a "Don't Know" about Future Prospects or elements of the mix. One year later, the "don't know" proportion fell to 15% by 9% points, and declined in all topics, except Communication.
2) Renewed confidence in brands
Nearly all respondents believe their brand is "well positioned to keep growing after the Crisis".
This level, already remarkable a year ago, grew strongly (+31% points) in the past year and may result from learning to operate in a new environment.
Also, a strong majority places growing concern on environmental matters, which in turn can have effects on Brand Purpose and operations aspects.
3) Time to launch new products !
In 2020 the crisis may have slowed down product development activities, but today, the will to develop new products is very strong with 84% of respondents willing to further extend a brand's product range with new variants and 76% wanting to develop innovations.
This shows that novelties are even more considered as a way to generate interest and sales. And the the rush on the Lo - No category is certainly there to remind of this appetite for novelties.
4) Time to (re)invest in Marketing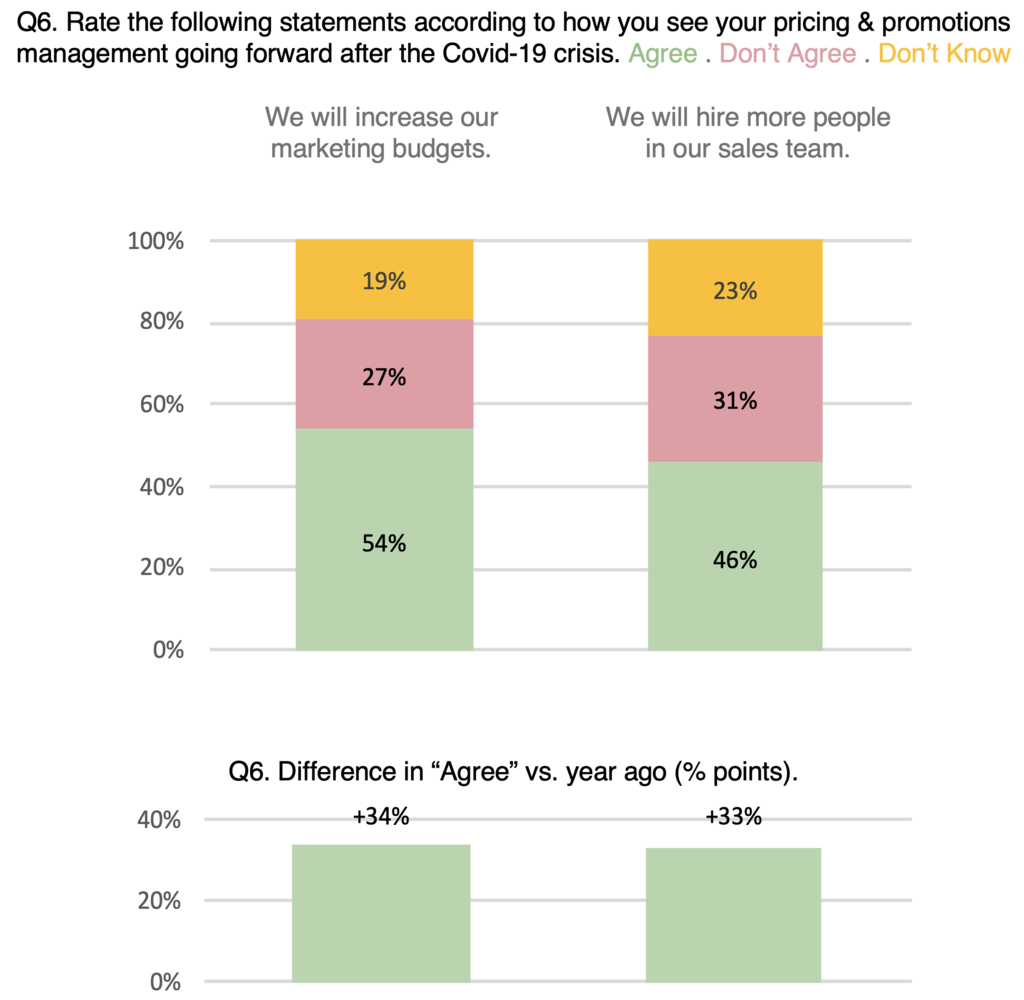 When sales crisis bite, marketing budgets usually take a hit. In the latest round of responses, Marketing budgets overall seem to be on the rise again as 54% of respondents agree with the "We will increase our marketing budgets" statement, and is one of the strongest increase (+34%) vs. the beginning of the crisis.
This willingness to invest is also reflect in HR where nearly half of respondents agree with the statement of "hiring more people", big leap of +33% vs. 2020.
So, overall the results show a clear readjustment to the new C19 dynamics which translates into gain in confidence, the willingness to launch new products and invest in marketing. Granted, the crisis is not gone, and the businesses who had to shut down did not respond to the survey. So the results are biased by the companies who managed to pull their card out of the game.
The increase in the willingness to launch products is there but should be planned carefully as it may create dry good tensions and high demand for Off Trade spaces as the On Trade circuits have not totally recovered from the crisis and are still riddled by uncertainty.
(*) Brand Reveal is a network of Senior Marketing Professionals with a genuine passion for Alcohol Beverages. If you would like a full free copy of the "Year After" Survey to understand how the Covid 19 Crisis impacted the Sentiment and Marketing Agenda of Alcohol Beverages - or explore how we can help grow your business in these changing times, contact [email protected].